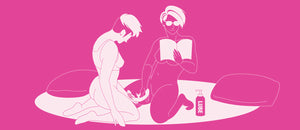 How To Use a Double-Ended Vibrator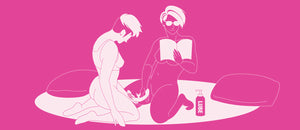 How To Use a Double-Ended Vibrator
A double-ended vibrator is a great way for two partners to enjoy the pleasure of deep rumbling penetration. Just think about it — double the penetration and double the vibration — it's a win-win! Designed for couples, a double-ended vibrator could also be used to turn up the excitement during solo play as well. 
Double-ended vibrators might be intimidating for some, with their large size and motor that's powered and designed to please two people at once. A lot of people also don't know how to use a double-ended vibrator, plus there's the misconception that they're only for lesbian couples.
However, there is a whole world of possibilities for maximizing pleasure in the bedroom with a double-ended vibrator. We hope that this guide on how to use a double-ended vibrator will encourage you to break through that door of uncertainty and start doubling up on your pleasure. And it doesn't matter who you are — double-ended vibrators can be enjoyed by every body (and all bodies.)
Together Vibe falls within the category of a double-ended vibrator — nevertheless it takes the concept to the next level! In this guide on how to use a double-ended vibrator, we'll tell you all about it.
What is a double-ended vibrator?
A common vibrator usually has a tapered end for inserting and some sort of base for holding and maneuvering the toy — a double-ended vibrator extends this concept with two insertable ends and typically a vibrator at each end. Double-ended vibrators are usually longer in length and are intended to be used with a partner.
A double-ended vibrator is a versatile toy that offers flexibility that's perfect for sharing. With a pair of vibrators, it can stimulate two partners at the same time! Plus the elongated shape and flexibility allows for a variety of positions. Additionally, they can be used by users of any gender, vaginally or anally.
How to use a double-ended vibrator for solo play?
While a double-ended vibrator is typically marketed for couples' play, it also can be used to enhance your masturbation experience. The most popular way to use a double-ended vibrator for solo play is by indulging in double penetration. This can be performed by inserting one end of the vibe into your vagina and the other end into your backdoor. Another option would be to insert both ends into your vagina. 
To insert both ends of the double-ended vibrator, you'll need to hold the vibe by them middle and guide each end into you. You can use a double-ended vibrator for solo pleasure in a couple positions, including laying on your back, on all fours, or squatting over the bent dildo to guide both ends into you. You'll have to use your hands to thrust the toy into you while also using your hips to target your pleasure zones.
How to use a double-ended vibrator with a partner?
Couples have lots of options for how to use a double-ended vibrator — lesbian couples can enjoy simultaneous penetration to their vaginas or their anus, or both if one partner wants to do anal while the other is penetrated vaginally. Hetero couples can try double penetration vaginally and anally (for both partners), and gay couples can also enjoy dual anal penetration. 
A double-ended vibrator allows for a variety of positions that allows for both partners to enjoy the stimulation of penetration. Although a lot of maneuvering might be needed, getting into missionary position is possible with one partner on all fours thrusting downward toward their partner that's lying on their back. Double-ended vibrators with a straight design can also be used in an ass-to-ass position for backdoor play.
What makes Together Vibe an ideal double-ended vibrator?
While most typical double-ended vibrators are made for couples, no one double-ended vibrator out there allows couples to enhance the intimacy between them like the Together Vibe.
Designed to be flexible to fit any and all bodies, Together Vibe makes couples play and solo play effortless. Plus with its three motors, you will enjoy stimulation from both ends of the toy, along with dual rabbit stimulators and a motor in the center of the toy to enhance the experience with external stimulation. You can use Together vibe to experiment with double penetration on your own, and take it up a notch external stimulation to your clit or perineum.
Together Vibe uniquely features the Echo function that's especially designed for couples. The Echo function mirrors the pressure applied to one end of the toy with vibration on its other end — which means that when your body is contracting from the powerful arousal that you're experiencing, your partner will feel it on the other end.
There are many, many ways how to use a double-ended vibrator, however Together Vibe really delivers on all fronts, with powerful vibrations that come from your very own stimulation.