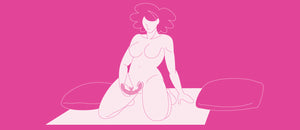 Why Together Vibes Couples' Vibrator Is the #1 Kegel Vibrator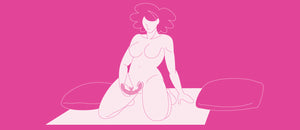 Strengthening your pelvic floor by doing kegel exercises has plenty of benefits — including some pleasurable ones — and it's easier than you than you might think to do them. No gym required!
Just like a muscular person likes to show off their "gains" by flexing their biceps, by doing kegel exercises regularly, with toned pelvic floor muscles you'll be able to flex your strength and (most likely will) impress your sexual partner.
Exercising your pelvic floor muscles can also be pleasurable — with the right tool, which is why Together Vibe is the #1 kegel vibrator. This flexible, dual-ended vibe is equipped with the ability to provide a real-time feedback response that can be extremely helpful for feeling the strength of your pelvic floor. With Together Vibe, you can even practice kegel exercises with a partner and support each other's sexual wellness goals!
Before we jump into some of the reasons why Together Vibe is the #1 kegel vibrator, here's a little background on kegel exercise and its many benefits.
What are kegel exercises?
Kegel exercises are done by clenching and releasing the muscles in your pelvic floor — which is located between the hips and holds reproductive organs. Kegel exercises can be done any time, anywhere simply by tightening and squeezing the same muscles that you tighten when you're trying to hold your pee. Even though it's that easy, a lot of women need some sort of way to know how hard they're squeezing, and whether they are applying more pressure (aka getting "tighter"). That's where the Together Vibe comes in!
Why should I do kegel exercises?
Various factors, such as pregnancy and childbirth, as well as due to weight gain and aging, can weaken women's pelvic floor. As we previously mentioned, pelvic floor muscles are responsible for supporting organs — which includes the bladder, bowels, and in pregnant women, the womb. Not having proper strength in your pelvic floor can lead to incontinence, along with feeling really uncomfortable.
Men also have pelvic floor muscles — and they also can benefit from kegel exercises, which can be done in a similar way as women (clenching and releasing the muscles that are used to control urine.)
According to a study by M R Messé and J H Geer, for women there is an association between kegel exercises and strengthening the intensity of an orgasm. Messe and Geer believed that increased muscle tone could increase the stimulation of stretch and pressure receptors during intercourse, thus leading to heightened arousal and orgasmic potential.
Find the Pelvic Floor With Together Vibe
With its flexible, curved W-shape, Together Vibe can help you begin your kegel exercise routine with its ergonomic shape. Then, you can begin to engage your pelvic floor for kegel exercise effortlessly.
To find your pelvic muscles, you should insert Together Vibe and then contract using the muscles that you would clench if you were trying to prevent yourself from peeing. You should feel yourself gripping Together Vibe. However, thanks to Together Vibe's patented Echo function, you'll get an even better indication that you've found your pelvic floor muscles. 
Echo Function for Real-Time Feedback
The reason why Together Vibe is the #1 kegel vibrator has everything to do with the innovative toy's Echo function. The more pressure that is applied on one end of Together is matched with vibration on its other end, which means that the vibration gets stronger the harder you contract.
By consciously applying pressure onto Together's insertable tip (think about it like hugging the shaft with your vagina), you'll feel the other tip vibrating. Practice maintaining a steady vibration by holding onto your grip, or try repetitive squeezes to get the other tip pulsating with vibration.
Kegel Workout Routines
Kegel exercises can be done while in a seated position or lying on your back. It's always nice to create a pleasant ambiance to indulge in self-care, so you might play some soothing music and relax. Use lube to insert Together Vibe and hold the other end with your hand for control and to feel the rumbling vibration made by your squeezes. For first-times, squeeze for a count of three and then release for a count of three. Do this 10 times.
You can strengthen the kegel muscles by gradually working your way up to counting to 10 while contracting your muscles. Once you've mastered that level, it's recommended to do 3 sets of 10 repetitions on a daily basis.
Pleasure Why You Strengthen
Kegel exercises can also be pleasurable because of its powerful vibrations! Treat yourself to stimulating clit vibrations while you contract your muscles on its vibrating end. You can incentivize yourself with stimulating vibration by applying the other end for dual stimulation either to your clit or backdoor.
A strengthened pelvic floor can also be pleasurable for a partner that's on the receiving end of your Echo vibrations. You and your partner can even practice kegel exercises Together! The possibilities are endless.