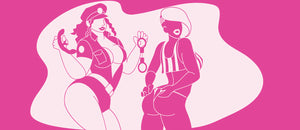 Lesbian Sex Games: 5 Games to Play with Your Together Sex Toy!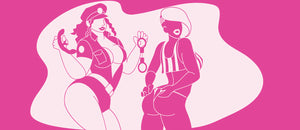 Like any couple stuck in a rut, lesbian intimacy could use a fun boost to help get through these stressful times. The Together Vibes Toy is already an essential for couples to enjoy the most intense orgasmic experiences together — and it also can also be used for lesbian sex games  as foreplay before the main event.
We'll break down everything you need to know about lesbian sex games with Together Vibes. Extend the excitement of your couple's play with fun games that will take your foreplay to tantalizing new levels. Tease your partner with the powerful vibrations and versatile design of the Together Vibes Toy. In this game of pleasure, there are no losers!
There are many ways to turn your Together Sex Toy into the centerpiece of the action, as well as a prize for your naughty game. The most important thing to remember when you're trying these fun lesbian sex games with the Together Vibes Couples' Vibrator is to have a good time! When you let go of your inhibitions, then you can let yourself escape to a world that's centered on you and your partner's shared pleasure.
Best Lesbian Sex Games
To help guide you on your sexy game night, here are our top 5 suggestions for lesbian sex games with Together Vibes to try with your partner:
Truth or Dare
A thrilling classic, Truth or Dare is especially fun to play leading up to a sexual experience because you'll get to learn a lot about your partner (thus making intimacy easier). Plus, it's a great way to facilitate the action with kinky suggestions along the way.
One of the best things about Truth or Dare is that you can adjust the game according to whatever questions you want answered and whichever activities your partner is comfortable doing. Feel your way through the game and only answer and do the things that you and your partner agree on. Here are a few ideas to get you started.
Sample Truth questions:
What is the biggest turn-off in bed?

What do you think about when you masturbate?

What was the most embarrassing thing that happened to you during sex?

What makes you the horniest?

Have you ever made a woman

squirt

? /Have you ever squirted?
Sample Dares:
Give your partner an erotic massage.

Play with your partner's breasts until they have a

nipple orgasm

.

Tell your partner how you'll use Together on her.

Stimulate your partner's clit with Together until she cums.

Give her 5 minutes of

A-spot stimulation

.
BDSM Play
BDSM is often explored through power exchange — which is when you let go of control during the sexual experience in favor of pleasure. There are very sensual, enticing ways to explore lesbian bondage BDSM using Together.
To really dominate your partner, bind her wrists using cuffs or tie with a scarf. Take your partner to the edge by stimulating her clit with the toy's powerful vibrations and when she's getting close to orgasm, remove the vibe away. To really torture her, insert the toy to provide dual stimulation to the clit and G-spot. You can use your hand to apply pressure on the other end of the toy to activate the vibrations to her G-spot for a truly pleasurably tormenting experience.
Fun in the Tub
Who needs a rubber duckie when you have the 100 percent waterproof Together Vibes Couples' Vibrator? Make a game out of your bath time with your partner by bringing Together into the tub for some wet and wild fun.
REVEALED: How to have the hottest staycation sex!
Make it a sexy competition — who can lather up their partner the best while being dually stimulated by the Together Vibes vibrator? Whoever cums first is the loser! (But also, the winner of a powerful blended orgasm.)
Dice Game
Whether you get yourself a set of sexy dice that clearly dictate each of your kinky moves or you a regular pair of dice, there is a lot of sexy fun to be had with a pair of dice!
Sex dice will give you clear instructions to take your lesbian sex game to exciting new levels, as it directs you to touch, kiss, lick, and bite various body parts. A regular set of dice will give you the chance to define what each of the numbers mean. For example, every time you roll an even number, you and your partner get to use Together for the same amount of time. (For example, if you roll an 8, you and your partner use the Together Toy for 8 minutes.)
Role Playing
Explore your fantasies by role-playing with your partner. You can explore and exchange dominant and submissive roles to try out new sensual personalities. Perhaps you're a naughty schoolgirl in need of punishment by the powerful dominant teacher, or you're a pair of virgins exploring each other's bodies for the very first time.
There are so many possibilities to have a fun, memorable experience with Together Vibes and your partner. We hope this guide to lesbian sex games with Together has inspired new ways for you and your partner to play.