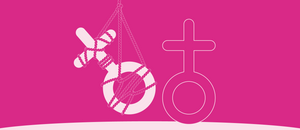 Bondage and BDSM for Lesbian Sex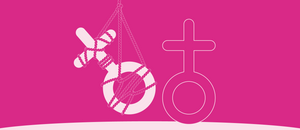 What Is Lesbian Bondage BDSM?
Been thinking kinky lately? Like tied up with nipple clamps kinda kinky? Floggers and patent leather heels and a gimp mask cross your mind? You may want to explore BDSM with your boo thang, particularly lesbian bondage, and while the idea itself can be intimidating, with a few tips and tricks you can be paddling your partner in no time. 
There's a LOT of information about BDSM, from academic studies and thinkpieces, blogs, and social media blurbs, to how-to videos on YouTube and TikTok. You can find websites about its history, meet-ups, aesthetic, equipment, and erotic literature. What you won't find is a plethora of articles about lesbian bondage BDSM. There are a precious few, and some are better than others, but for a topic that has been studied in the bowels of the most elite educational institutions of our time, lesbians are (unfortunately, unsurprisingly) left out of the general conversation and it's a loss for everyone. When have women ever NOT positively contributed to the overall discourse around sexual pleasure? 
For something as in-depth and perceivedly pervasive as BDSM, one would think that it would have been considered how much it permeates the pockets of our global collective to the most marginalized. And yet, here we are with limited discussion about lesbian bondage and it could be imagined that the most basic question would be, "what's so special about lesbian bondage BDSM?"
The Dynamics of BDSM in Lesbian Relationships
Lesbian relationships, in and of themselves, are notoriously enmeshed and intuitive, with a unique and distinctive balance of energy, sexuality, and household chores. Lesbian bondage introduces a shift in power dynamics as couples figure out their role as a Dominant or submissive player. Many lesbians assume these roles will come naturally and will mimic their relationship dynamics. The most obvious flaw in this thinking is that many couples have learned to strike a balance, so when it comes to expressing their sexuality in a scenario that demands a top/Domme or bottom/sub, there may be a tug for control.
An Alignment of Expression and Power Dynamics
It's also not a leap to understand that our personalities and our sexual expressions don't always align. Think of the many lowly assistants working in corporate who moonlight as Dommes, and the shift in power dynamics when their boss's golf partners line up to be ball-gagged in a dungeon on the lower east side. When an aggressive femme or masc of center lesbian enters the world of lesbian bondage, they are sometimes shocked to learn that their assertion of their own power isn't automatically accepted. In some cases, they learn that they respect and even appreciate not having to be the one in control all the time. Lesbian bondage can become a space where they can relinquish trauma-based shame about being needy, emotional, or affectionate.
To play around with these ideas regarding shifting dynamics, some lesbian bondage play requires a literal shift in how partners think about their physical positioning. For some couples, basic positions like facesitting don't require a lot of thought about who's dominant or submissive, but if one of the partners is bound or in a gimp suit, things change. Similarly, with missionary or spooning, an added element of BDSM to these positions feels differently physically and emotionally. 
Ways to Take Control
Think of a basic missionary romp, but with a lesbian bondage twist, like a clit clamp, blindfolds, and a vibrator like the Together Sex Toy, where you can control the sensations your partner feels through intentional sensual caress and use of The Echo Function. By squeezing your Kegel muscles, The Echo Function allows you to send sensations to the outer arm of the device that is in your partner. This device is also ideal when engaging in other positions during lesbian bondage like spooning, or anal to anal sex.
The Conversation
When thinking of engaging in lesbian bondage, consider power dynamics and any potential shifts. During your (absolutely essential) conversation about consent and safe words, discuss your expectations about dominance and submission, your ideas about what you want to try and what you absolutely don't. Also think about what you might need during aftercare. Going from a naturally tender and sensual relationship to a physically and emotionally impactful session where pain is intentionally inflicted requires deliberate actions and conversations to come back from that mental state.
The first step to engaging in lesbian bondage or any other form of BDSM is to do your homework. There are several books, videos, and forums where people have already answered all the questions you can think of, and even more people that can speak to concerns you didn't even know you had. Once you can wrap your mind around lesbian bondage BDSM, it becomes just a short matter of time before you can wrap your cuffs around their wrists.