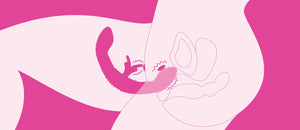 What Is A Blended Orgasm And How To Have One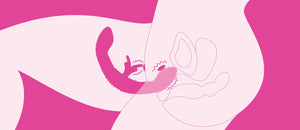 It's true what they say — good things come in pairs! Especially when it comes to sexual stimulation. In today's blog, we're going to explore what is a blended orgasm and how to have one. 
Most pleasure-savvy vulva owners know that the most surefire way to get to that often-elusive orgasm is through G-spot stimulation or clit stimulation. There are many ways to stimulate each one of those pleasure zones and result in an orgasm … now imagine if you combined the two. In short, that is how one would describe what is a blended orgasm, but read on for more useful info, especially to find out how to have one yourself, either alone or with a partner.
What is a blended orgasm?
Some sexual health experts have theorized that there are as many as 10 different types of orgasms, and blended is among those. A blended orgasm happens through the stimulation of more than one erogenous zone.
As we described, a blended orgasm is most commonly understood as the simultaneous stimulation of the clit and the G-spot — which means that there would be something (a toy, finger, penis, etc) massaging you internally, while at the same time receiving external stimulation from a mouth, finger, toy, etc. A blended orgasm can also be experienced through the stimulation of the A-spot, which is located deeper vagina, between the cervix and the bladder.
Nevertheless, blended orgasms aren't just for people with vaginas. Stimulating the prostate while giving a blowjob, or rimming while giving a handjob are all different ways that penis-owners can indulge in the pleasure of a blended orgasm.
How to have a blended orgasm…
To experience a blended orgasm, the first step is to locate the G-spot and the clitoris. The clitoris an erogenous zone that most women are familiar with, s their reliable go-to for quick orgasms. Located right where the inner labia meet and form a little hood, the clit swells when aroused, exposing more of the sensitive area for stimulation.
The G-spot takes a bit more work to find, however, clit stimulation can help! When you're aroused, your G-spot is a lot easier to find. To locate your G-spot, insert your finger about 2 to 3 inches deep with your palm facing up. You'll know you've found the G-spot when you feel a slightly rougher texture.
Both the clit and G-spot are best stimulated through pressure and movement, and while this can be achieved with your partner's fingers, mouth, penis, etc…. pleasure products such as the Together Vibe can help you experience a blended orgasm effortlessly. Even better, the Together Vibe can help you and your partner enjoy a blended orgasm simultaneously. Now that's what we call a blended orgasm… but we'll get to that in a minute.  
By yourself
Once you've taken the time to familiarize yourself with your clit and your G-spot, now it's time to combine the stimulation of both erogenous zones. You can warm up by stimulating the clitoris in order to increase the blood flow to your pelvis and make your G-spot easier to locate.
You can use your fingers to stimulate the clit, but with the Together Vibe, you don't have to make any effort at all! Simply activate the Together Vibe's vibration, which ranges from low, medium, and high. Before inserting the curved shaft, press the rabbit stimulator against your clit.
Once you feel turned on, it's time to insert the shaft. Thanks to its ergonomically curved shape, the Together Vibe will easily target the G-spot with little maneuvering necessary on your part. When used solo, the outer arms are perfect for convenient vibration control. 
With a partner
As we mentioned earlier, the Together Vibe is made to be enjoyed with a partner, and it's perfect for sharing a blended orgasm together. It's double-ended with a unique W shape that includes dual rabbit stimulators at the center that can be used to stimulate the clit or perineum. Each end of the Together Vibe features a tulip-shaped tip that targets the G-spot to provide satisfying pressure and powerful vibrations.
The entire Together Vibe is flexible to make it comfortable for bodies of all shapes to come together and enjoy a blended orgasm together. It is great for trying out new positions with a partner.
And just when you thought that the Together Vibe couldn't be better, the Echo Function takes an intimate experience to the next level.  The Echo Function will sense changes in pressure on either end of the Together couples' Vibrator, and change the vibration intensity on the other end to match it. So, as your partner reaches orgasm, the vibrations on your side of the toy, including the rabbit ears, intensify. It works just as well when using alone, just squeeze the other end to feel deeper and more intense sensations.
So now that you know what is a blended orgasm and how to have one, go out and explore the possibilities!