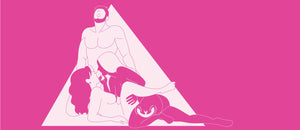 How to Have a Threesome with the Together Vibrator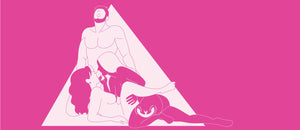 Yes, it's true that the Together Couple's Vibrator is a must-have for all couples and all bodies, but this versatile pleasure tool is also especially handy during a threesome. You can go ahead and use your imagination to figure out how it works, but we're here to tell you exactly how to have a threesome with Together Vibe.
When you think about it, using the Together Vibes vibrator with a partner is a lot like a threesome experience without the need of a third person. The Together Couples' Vibrator can act as the third party, here for you and your partner's pleasure. Without either partner having to thrust or having any less focus put on them, both are given external and internal stimulation. And then there's the Echo function that adds that uniquely intimate touch by mirroring the intensity of your partner's vibrations that then you can feel.
What Is a Threesome?
Just as the name suggests, a threesome is a sexual encounter between three people. What happens during a threesome is up to the participants, and there really isn't a right way to do it. Of course, there are the threesomes that you see simulated on TV, or better yet, in porn that typically involve two women and a man. While this is a very popular fantasy among heterosexual or bisexual adults, there are many other sexy threesome combinations.
According to a survey of 4,175 Americans (ages 18 to 87) from all 50 states by researcher Justin Lehmiller of the Kinsey Institute found that a threesome was the top of people's lists of fantasies. Nevertheless, it's not as often acted on, which is why it remains a fantasy — or a taboo that may scare some people off.
Who Can Have a Threesome?
Threesomes aren't just for porn stars! Anyone can have them. They also can be done with any gender, in whatever combination you desire. There are many misconceptions when it comes to threesomes, including that they aren't enjoyed as much by women, or that it's off-limits to married couples or people in monogamous relationships. It really just depends on who's participating and what their limits are. As long as everybody involved has consented to the activity then the world of threesomes is your oyster!
Among the brilliant features of this one-of-a-kind toy is that there are so many ways how to have a threesome with Together! It has a flexible shape that will adjust to the bodies that are using it. If someone in your threesome party doesn't like penetration, the Together Couples' Vibrator's powerful vibrations can stimulate just as much pleasure externally.
How Do I Initiate a Threesome?
If a threesome is something that you'd like to explore with a partner, the first step is to talk about it. It is important to enter this conversation with an open mind and to be understanding in the case that a threesome may be something that your partner is not comfortable with.
Talking to a partner about your sexual desires is extremely important, although it's not always easy. To initiate a conversation about your threesome fantasy, bring it up as a dream that you had… no one will judge you for what your subconscious dreams up, so it's a good opportunity to let your partner know about bringing in another person in the bedroom.
As far as finding a third participant for your threesome, you might consider inviting a friend — although you should be careful with friends, as you wouldn't want things to get weird afterward … however, a casual friend that you're sexually attracted to or curious about might be a good option. To avoid any possible weirdness, you could also meet a sexy stranger at a club, bar, or on dating apps.
Positions, Positions…
The Together toy is uniquely flexible to allow you to get into a variety of threesome positions. One way how to have a threesome with Together is to use it as it is specially designed for — by letting its curved shape penetrate two partners who are facing each other and also enjoying the external stimulation of the rabbit, while both partners orally and manually pleasure the third participant involved.
In a threesome involving two vulva-owners and one penis owner, then one of the vulva-owners can be sharing the Together toy with the other vulva-owner while getting penetrated from behind (aka double penetration). In another scenario, the penis owner can be getting penetrated by the Together Couples' vibrator along with the other partner while the third gives him a blowjob.
Safety First
As with any sexual activity involving a partner, it is important to consider your sexual health. Before any threesome, discuss your STI or STD status with the participants, and everyone should disclose their information.
When having a threesome (unless you're in a monogamous thruple relationship), you should also consider protecting yourself with condoms and dental dams. You can use a condom over the Together Vibrator's penetrative arms, and replace it whenever a new partner uses it. Plus, you should always clean your Together Couples' Vibrator after every use.
Having a threesome can be complicated to initiate, and it may take a little bit of work to keep the flow and energy going throughout the experience, however, this common fantasy is one that you won't regret trying out.