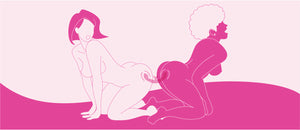 Using the Together Couples' Vibrator for Anal Play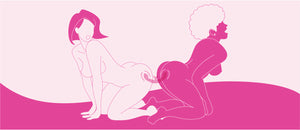 If you think that the Together Couples' Vibrator is only good for dual-stimulation for two female bodies, then you couldn't be more wrong. If you and your partner — regardless of gender — have ever been curious about booty play, then using the Together Couples' Vibrator for anal play is the perfect way to experience it together.
When you invest in a sex toy, you want to get the most bang for your buck (pun intended)! The more uses that you can get out of your new pleasure pal, the more that you feel that you've made a worthwhile investment. That's why the Together Couples' Vibrator isn't designed to be a one-trick pony. Its flexible, ergonomic shape makes it possible for everybody to enjoy the one-of-a-kind, innovative functions of this toy that's the first of its kind.
What makes Together Couples' Vibrator good for anal?
All of the vibrator's impressive features also make it an excellent toy for anal play, whether you're alone or with a partner. Designed as a couples' toy, Together also makes it possible to explore anal play with a partner — and not just in a giver-and-receiver kind of play.
Using the Together Couples' Vibrator for anal play is particularly easy because of its ergonomic, flexible shape that will allow you to explore anal penetration at the same time as your partner. With three speeds to choose from, you can start off with the lowest setting and then work your way up as you get warmed up. Additionally, the Echo function will mirror your partner's contraction on one end of the toy with vibration at the other end.
Flexibility and Reach
Why should you be using the Together Couples' Vibrator for anal play? Let's start with the basics — it's a flexible, double-end shape. Not only is the Together vibrator already in a curved, double-ended, but also its flexibility allows it to bend and stretch until you find your perfect angle for anal play.
Because of its ergonomic design and flexibility, any gender and anybody can enjoy the Together vibrator as a couple. Its shape encourages eye contact between partners as they pleasure each other for an incredibly intimate experience. 
Dual-Stimulation
One every useful (and pleasurable) trick for anal play — regardless if it's your first time or you're an experienced backdoor player — is to incorporate other stimulation during anal. 
The Together Couples' Vibrator's tulip-shaped head is the perfect shape to stimulate the G-spot and prostate, while the pair of rabbits at the center of the toy are oversized in order to provide clit stimulation as well as external prostate stimulation while accommodating a wide range of bodies.
Feel Your Partner's Pleasure
What really makes Together Vibes different than any other couples toy on the market is the patented Echo function that gives it the ability to provide real-time feedback response to and from a partner. The Echo function allows one partner to feel the other partner's state of arousal, and also allows them to respond with their own state of arousal.
By applying pressure on one arm, the vibration is mirrored on the other arm. Because your muscles instinctively contract when you're stimulated, this will activate the vibration that your partner feels. 
If that's not enough, the vibrator has three motors that each deliver three vibration speeds: Low, Medium, and High.
Anal Solo Play Tips
Using the Together Couples' Vibrator for anal play is especially pleasurable when you use it for double penetration. Before you start, also remember to lube up the vibrator with a water-based formula.
There are two positions to positions that you can experiment with anal play on your own. The easiest position is to start by lying on your back and elevate your hips with a cushion. Insert one end of the Together Couples' Vibrator into your anus with the other arm pointing towards you. You can then use the other end for vaginal penetration, as well as enjoy some clit stimulation from the vibrating rabbit. 
Another position to try that will mimic the sensation of riding on a partner, is to squat down onto one end of the Together vibrator while directing the other arm to stimulate your clit or G-Spot.
For those without a vulva, the rabbit can be used to stimulate the taint, and the arm is even more effective as a handle for solo play. 
Couples' Anal Play Tips 
Couples can enjoy the Together Vibes vibrator for anal play together and experience extreme intimacy. Facing each other, each partner will insert an end of the couples' vibrator into their booty while the rabbit stimulators offer pleasurable external stimulation.
Depending on you and your partner's bodies, you may even be able to position yourselves in an ass-to-ass anal play experience. The Together Couples' Vibrator's seamless silicone arms are flexible enough for you to try the unexpected!
The Together Couples' Vibrator allows you to get creative with your sexual play. Get ready to come Together like never before!