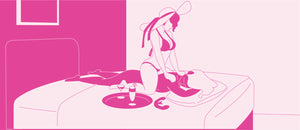 How To Have The Hottest Staycation Sex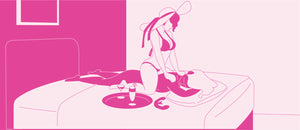 You no longer have to leave your house to go on a sexy vacation. Yup, it's possible to have the hottest staycation sex right at home with a few tips that are sure to transport you to an exotic location — mentally, and in some ways even physically.
In today's age of social distancing, we've learned that there are a lot of ways to keep yourself entertained right at home. It's really the perfect time for a staycation — and what better indulge in that time at home than with staycation sex.
We've rounded up some of the best tips to make your staycation sex one for the record books! All it takes is a little creativity and a kinky imagination.
Get Dolled Up

Way easier than having to get on a diet to lose those few pesky pounds to be able to fit into your new bikini, a staycation doesn't put any pressure on you. But you can still look the part by dressing up for the occasion. Maybe there's some dinner and dancing as part of your staycation — what would you normally wear while hitting the town? Put on your favorite little black dress and some heels, or really start off your staycation sex weekend right by wearing lingerie.

You can also set aside some time before your staycation starts to pamper yourself with a facial, manicure, and pedicure. You could also shave your legs and other areas to make your skin smooth to the touch, if you like, or wear makeup if that's what you're into. It's a staycation, you do you!
Poolside Goes Inside

There's no reason why you can't slip into a bikini while you're at home! Slip into your tropical attire, whip up some fruity drinks, and grab some massage oil or lotion and give each other a sexy rubdown. You can end it with a happy ending — something you can't get at any hotel spa!
Suite Set-up

Part of the luxurious feel of going to a hotel is the fact that everything is so neat! And you gotta love a hotel with an interior design that was conceived with romance in mind. A conveniently placed mirror will give you an excellent view of all the action that takes place on the bed. If you are incorporating pleasure products into your staycation sex romp, then lay those out too! Place your Together Couples' Vibrator on the nightstand, charged up and ready to go, along with some lube and any of your other favorite toys.

Along with your mirror, you can tidy up and make the bed so that it's as immaculate as the Ritz Carlton. You may even want to put some chocolates on the pillow like a luxury hotel would do.
Fun in the Tub

Just like when you're on a relaxing vacation at your favorite hotel, a bathtub is a must-have for staycation sex. Prepare a bubble bath or pour some beautifully scented essential oils into your bath and line it with candles to set the mood. Set out some soft, fluffy towels or robes if you have them, for when you step out.

Don't be afraid to get freaky in the tub as you can still lie down to get into various positions. If your bathroom doesn't have a bathtub, have some wet and wild fun in the shower, where you can try out several standing sex positions.
EXPLORE: The 8 Best Lesbian Sex Positions to Try Right Now!

Sleep In

When you're on holiday, there's nothing better than not having a work schedule to wake up for. You can party all night and sleep all day! When you're taking a staycation, there might not be so much partying at night (although the staycation sex might keep you up pretty late), but you also get to sleep in all day long!

Nap alongside your partner in between staycation sex sessions and just watch the day fly by in total ecstasy.
Explore Your Surroundings

Depending on how long you've been living at your home, chances are you're pretty familiar with the layout. But that doesn't mean that you can't get creative and take your staycation sex to other parts of the house. If you're used to sexing in the bedroom, try the couch, kitchen, or your backyard (if it's private enough.)
Order 'Room Service'

There is no cooking when you're on vacation! Call for delivery from your favorite restaurants and get some nourishment in between staycation sex sessions. Keep the romance going even when you're grubbing down by feeding each other some of your delicious treats.

Share some delicious glasses of wine or cocktails with bae and save some room for dessert, which will be more staycation sex with you of course! Grab the whipped cream, strawberries, and some champagne as you set off for your romantic adventure. Your destination: ultimate pleasure; population: two.
Enjoyed this article on staycation sex? Check out our top 5 lesbian sex games to play with your Together Vibes!