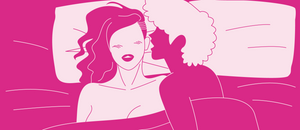 Nailing Dirty Talk: A Guide for Female Couples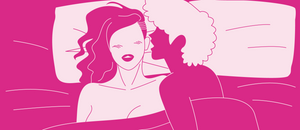 Getting your muffin buttered might sound delicious or naughty depending on context, just like bluffing with your muffin might be universally nice and nasty, but when it comes to dirty chat, the right balance of sugar and spice makes everything nice. 
Down and Dirty?
Dirty chat is a way of expressing what you like, what you want, or what you want to try. It can happen before or during a sexual encounter, and it can be IRL or via sexting. Dirty chat can be casual flirting or a full on erotic sesh with your partner. If you're casually sending naughties, it can be a good way to find out what your partner is thinking about for your next romp. Not sure if you can get into dirty chat or if your partner will appreciate it? Ask. The best thing to do in any case is ask for consent and dirty chat is no different. Start off with regular flirting and throw in a word or phrase that is a little kinky. Gauge your partner's response and ask them how they feel about hearing you talk like that. Alternatively, during casual conversation, ask how they would feel about you dirty talking to them in various scenarios. Find out if they are into it, what words excite them and what words are a turn off. This is also a good way to find out some of their triggers. Maybe they don't want their vulva referred to as a f*ck pie, but they don't mind being your nasty little slut. 
Sexty Sexting
Sexting, or dirty chatting over the phone, is one way of expressing your desires to your partner. It works as a slow build. Maybe you can't see your partner until the end of the day, or even the end of the week. This gives you a chance to build anticipation and eventually, arousal. Not sure what to say? Flirt like you always do and then take it up a notch. 
"I was thinking about you earlier. Well, very specific parts of you." [Smirk Emoji] 
If your partner is up for it, they will certainly let you know by asking the right question as a response. You already know which one it is. 
"What parts would those be?" 
You don't want to move too fast here. You may have to make this last until the weekend, so use your imagination and remember. Autocorrect is not your friend and will never help you be great in these kinds of situations. Always spellcheck. 
IRL Talk
Dirty chat in real life is a totally different kind of involvement. In the moment, these are more intense because they are no longer theoretical. If you have no idea what to say or how to start, start off with updates: 
"I like that", or "right there!" 
Once you're comfortable, it's an easy transition into giving instructions or encouragement. "Harder!" "Better!" "Faster!" "Stronger!" All work well here. Feel free to give directions if you need them to move a bit to the left, or keep going. Don't be afraid to ask for what you want and be specific. If your partner is licking your clit and you want them to suck on it, you can ask. If you want to be a little kinky, make it a command, if even a soft one. If you are the one giving pleasure and your partner makes a request, you can counter with some dirty chat by making them beg a little. 
"Tell me again what you want me to do to you." 
If your partner has consented, call them something other than their name. It can be a soft name like pet, kitten, or pussycat. Kinkier names like whore, slut, and c*nt should definitely be discussed beforehand, but if something slips out in the moment, be sure to discuss it during aftercare. Ask them how they felt about the words, or as the receiver, feel free to tell them that you don't like ______ or to never refer to you as ______ ever again. 
One of the hottest things you can do is talk your partner through an orgasm. 
"You like that. I can tell. Look at me. Tell me you're gonna cum for me. Cum all over my fingers. Can you take another one?" 
Some people aren't sure why they should consider dirty chat, but the truth is, it adds a whole new dynamic to your communication. It creates a tone when used during foreplay, and also allows you to learn some of the kinkier things your partner maybe into. It's a form of exploration at its mildest and at its deepest, it can create more trust between you and your partner. But mostly though, it's just f*cking hot. 
Dirty chat can be sensual and playful, cerebral and intentional, or dirty and deliciously degrading. You don't have to choose, feel free to toy around and figure out what does it for you and yours. It make take some practice at first, but sex play is still play, so have fun with it. Don't apply too much pressure (or please do)! If you say something that comes out sillier than it sounded in your head, laugh it off and eventually you will learn what comes to (for?) you naturally.