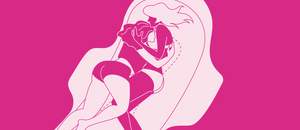 Finding Your O During the Flow: Sex Positions for Menstrual Cramps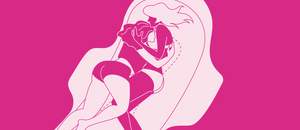 For many, saying Oh No to the Big O during your Auntie Flow is the way to go, but we're going to make you a pro at saying hello to the crimson tide below. 
Period Sex
Period sex has been thought of as taboo, but when you are comfortable with your boo, it's easier to approach the kinkier road less traveled. Sex on the rag comes with several benefits, so it's worth considering. First, having sex with your monthly friend has been proven to shorten periods and relieve pain, including the complimentary cramps that are served as a side dish to the garnet gush. It acts as a natural lube (because obviously), but most importantly, it increases your sex drive. Because who doesn't want a pulsating period? 
But, we get it. Do the benefits outflow the concerns? That's completely up to whoever has the blob and the people that want to ride their crimson wave. It's pretty much a default that it's messy, and the heavier your flow, the bigger the show. One way around this is to put down lots of dark towels. Why dark? Because psychologically, most people do not want to see their sanguine remains. It's fine for those that are into it. Blood kink is very real, and most people figure out their affinity for it during period sex. 
Nip it in the Blood
If you are looking to avoid the blood altogether, try using a song or a menstrual disk. It's like a menstrual cup, but its softer, shallower, and you can keep it in during penetrative sex. If you don't plan on deep sea diving, a tampon will do for some more surface play. More on that later.
Talk it out. Period.
A lot of people feel self-conscious about having sex while releasing their inner Carrie, and the truth is, if you don't want to, just don't do it. Having open and honest conversations with your partner beforehand will help you to decide what you're comfortable with. A huge part of this conversation is safety. It is absolutely safe for all parties to have sex during shark week. Consensual sex with barriers for protection against STIs are the standard, and nothing should change. It should be noted that bodies are more susceptible to contracting STIs during menstruation so regular testing is a basic precaution to take. Calling Code Red doesn't automatically prevent pregnancy. While the chances of pregnancy are extremely low, they are never zero. 
Non- Penetrative Options
There are some ways of approaching sex that are better suited for the red wedding. Remember the tampons we mentioned earlier? This route is ideal for non-penetrative sex. Using fingers for clitoral play works here, as well as oral sex when paired with a dental dam. Vibrators are another way to make your partner spill without spilling blood, as well as grinding and other forms of mutual masturbation. 
Angles for a Tangle
If non-penetrative sex doesn't get your juices flowing, lying on your back slows the flow so consider the missionary position while using the aforementioned menstrual disk. If that still seems too messy for you, the shower is a good way to keep the Bloody Mary to a minimum. It's a change in environment and who doesn't like a hot steamy romp in a shower? Even better, who doesn't love a hot steamy shower during their moon phase? Showers ensure that everything and everybody gets cleaned up. Just keep in mind that water can break down lubricants and lessen the efficacy of condoms, and a non-slip mat can go a long way here. 
A Backdoor Alternative
Anal play is a great alternative (or addition) to vaginal sex and this is especially true during strawberry week. As always, lubricant and consent are mainstays, and a good finger massage is one of many ways to make your partner forget that their cup runneth over. This is also an ideal time to introduce toys. Butt plugs, dildos, and vibes are a good idea, but many find a strap-on to be the most fun when gardening for roses. 
Period sex can be a new exciting form of intimacy for couples. It involves deep conversations about expectations and consent, trying new locations, positions, toys, and scenarios. It is completely safe while being satisfying for all involved. Because of hormone surges, all erogenous zones are particularly more sensitive, so don't be afraid to engage nipples, ear lobes, or other sexy spots. During this time, it's easier to have your cherry blushing while gushing so whether you aim for lighter flow days or wade deep in the burgundy river, release your taboos to release your red juices and enjoy!
Found this article useful? Check out our most popular guide on the best lesbian sex positions!